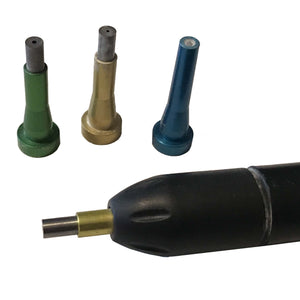 Vaniman Problast Spare Tips
Regular price
$29.50
$0.00
Unit price
per
Details
Problast Replacement Tips
Spare tips for the Master Mobile Problast and Mobile Problast micro-abrasive units. 
Different blasting medias require the use of different tips for your Problast unit.
Available in two tip materials and three different sizes to meet your blasting needs.
Embedded Crystal Tips (2 per package):

Medium (Blue) Tip, .032" (.8mm) (for 25/50 micron)

Large (Black) Tip, .048" (1.2mm) (for 50/100/250 micron)

Extra Large (Red) Tip, .065" (1.6mm) (for 100/250 micron)

Precision Carbide Tips (1 per package):

Small (Yellow) Tip, .026" (.65mm) (for 25/50 micron)

Medium (Green) Tip, .036"(.91mm)(for 50/100 micron)

 Large (Violet) Tip, .059" (1.5mm) (for 100/250 μmicrron)
Specify tip type and size in options.
Tips can be easily swapped out or exchanged to allow for switching between media types for either the Master Mobile or Mobile Problast sandblaster units.
---
Share this Product
---