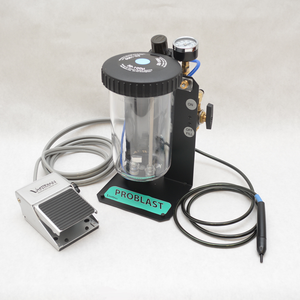 Vaniman Master Mobile Problast
Regular price
$490.00
Sale price
$500.00
Unit price
per
Details
Master Mobile Problast
The Problast line is a collection of high quality portable micro abrasive blasters built with maximum utility yet with economy in mind. It incorporates a hose purging system between uses.  Other Vaniman Products are available at discounted rates.  Call or email for quote (val@geo-tools.com 435-225-6423).
Insta-off feature immediately starts and stops media flow.
Complete Single Tank System.
Built-in pressure delivery system including a 0-100psi adjustable filter regulator and foot pedal control.
Handles all types of blasting media from 60 to 360 grit, 25-250 micron.
Available with three different tanks for varying medias 25-50, 50-100, or 110-250 micron tank size.
Designed for pinpoint accuracy on small or hard to reach areas.
A variety of pencil point nozzles are available depending on media used.
Maximum longevity and maintainability with no metal wear points from tank to nozzle and "quick change" hose fittings
Convenient 6 foot handpiece hose.
Specifications:
Unit Net wt: 5 lbs. (without abrasive)
Unit size: Height 10 in. Width 6 in. Depth 7 in.
Recommendations for use:
For use of dolomite as the media we Unit Net wt: 5 lbs. (without abrasive)
---
Share this Product
---